Meet Dr. Raphael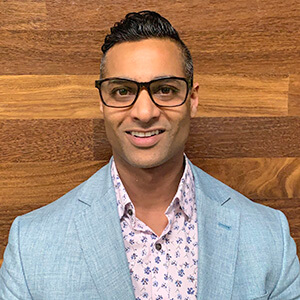 The human body is really an engineering marvel.
Dr. Raphael fell in love with chiropractic while he was in the electrical engineering program at McMaster University. "As a track and field athlete, I was often injured, and saw a chiropractor for help."
"Because of my engineering background and understanding the way things worked, chiropractic made sense to me." The spine is like a circuit breaker for your body—if the switches are in the right position, the electricity will freely flow to all the parts."
"My results with chiropractic care were amazing. Not only was my pain relieved, but I was able to compete and train again, I recovered faster from my workouts and I was getting sick less." Seeing how many people were having similar health success and transformation with chiropractic, made him decide to change his career path and become a chiropractor.
Chiropractic Education
After completing his electrical engineering degree, Dr. Raphael went on to achieve a Bachelor of Science concurrently while attending Logan College of Chiropractic in St. Louis, Missouri. Dr. Raphael was personally scouted to join the research department during his time there and graduated in 2009 honored with both the research and technique awards.
In addition, Dr. Raphael started the Wellness Club at Logan University, eager to build on and share his knowledge with fellow doctors on the science of wellness living via nutrition, fitness, and mindset. "I love seeing amazing changes in peoples' health!"
A Well-Rounded Approach
Dr. Raphael has been in practice for over a decade and has a focus on family wellness with special training in working with infants and pregnant women. He works with people of all ages from infants to the elderly, in addition to a strong understanding of biomechanics and an athletic background involving hockey, football, wrestling through high school before switching to track and field in university. He continues to stay active with functional training, weight training, yoga, burst work, high intensity training, metabolic conditioning, and mobility work.
Given Dr. Raphael's extensive background, he brings a well-rounded approach to caring for his patients.
Wellness is a Lifestyle
Dr. Raphael and his wife, a nutritionist, practice what they preach to their patients and community about wellness. "We do a lot of community events, both in and out of the office. We want to share true wellness with everyone around us." They enjoy spending time with their family, who also share in Dr. Raphael's health ideals.
Get Started Today
I would love to discuss my unique approach to caring for you and your health. Contact us today to get started!

Dr. Raphael | (905) 970-9355